Where does Markethive fit in..
Modern Day Ark
Is Markethive the "ark" literally for a new beginning? A platform that will carry us into "a brave new world" ( the 4th Industrial Revolution ) of relationships, communications and exchange of assets, then creating a new expansion of productive and highly flexible individuals and groups that have the necessary tools for work at home entrepreneurs. The practice of social distancing is forcing a need for a kind of digital business center(s) that have build-in scalability and versatility.
What Will Really Make A Difference
The coronavirus crisis has initiated a sobering realization that our social interactions and business relationships has to change worldwide. Because, recovery and surviving into the future in a compassionate beneficial way has to have a solid foundation, compassion, ingenuity and dedication.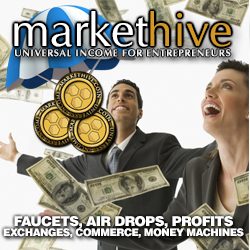 Always Moving Forward
Thomas Prendergast ( CEO ) of Markethive, has been building the Markethive foundation and the platform itself for over 20 years, an /Inbound Market Network/ that uses the cutting edge technologies of encryption ( the Blockchain ), Distributed ledger technology ( DLT) and Artificial Intelligence ( AI ).
Providing What Is Needed and More
Markethive is highly internet enabled and in Beta, at a stage often called the "accumulation stage" and providing some very potentially lucrative options referred to as loyalty programs and Incentivized Loan Program ( ILP ).
Markethive was created to help those who are looking for " and want to survive this current coronavirus crisis and coming 4th Industral Revolution, safe and prospering. Working from home for many is fast becoming a necessity, not a distant option. To quote Robert Kawasaki, "small is bigger". You'er home may not be a large corporate building but, it can help you survive and prosper handsomely.
Getting Started
Learning how to use and benefit from the "ark" is the first step to take. You can join Markethive for free and begin mastering a platform with the tools that can help you have a successful and profitable future, in a brave new world.
And Opportunity Not To Be Missed
Always with a new beginning, there are gifts that are bestowed upon the wise and diligent that can or will define one's future in very profound ways. And, in this "Brave New World" that is before us, Markethive is offering all members the option to participate in one of it's profits centers, called the "Entrepreneur One program". This program will include many "money machines", the first is called the "Banner Impression Exchange" ( BIX ). To be a part of this one of a kind opportunity, you must select under "Main Menu" > Loyalty Programs. There are only 500 Entrepreneur One positions available but, once the Banner Impression Exchange is launched, the cost to join will double. So, where does Markethive fit in? Well it fits perfectly into the lives of anyone that seeks to succeed and prosper working at home or anywhere. Things are changing drasticly and Markethive is here for you at every step of the way. God Bless.
If you have not already, watch the attached video above featuring a short talk on the state of  Markethive by CEO Thomas Prendergast:
Click The Banner Below To Join
Venable Dance – Entrepreneur